Exhibit
EXHIBIT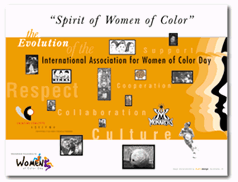 "Spirit of Women of Color"--The Exhibit documents the history and evolution of Women of Color Day and the organization which has resulted to promote it. Included with the exhibit are handouts describing the day and the organization. The Exhibit is being further developed. Contributions of photographs and other images are welcomed. Submissions which need to be returned must be accompanied by appropriate envelopes or packages with sufficient postage.

"Spirit of Women of Color"--The Exhibit is available for display. Interested individuals and organizations should contact us as early as possible for scheduling and fees.

Women of Color Day Commemorations Kits (which include tee shirts) are available for sale at the Exhibit. The kits provide a consistent ceremony for those celebrating the day. These kits are among the products supporting the promotion of Women of Color Day. The price of the kits is $29.99.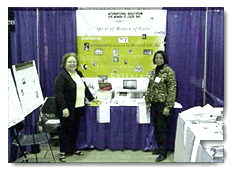 Single tee shirts are available for $14.95. Tee shirt sizes-Small, Medium, Large, Extra Large, 2X, and 3X are indicated on our order form. All orders must be prepaid.

Videos from previous Women of Color Day programs are available at $19.95.





* All shipping and handling charges quoted are for the US order only. Please contact us for the international shipping and handling charges by sending us an e-mail.