Video Tapes
Fundraising Kits
Other Interesting Products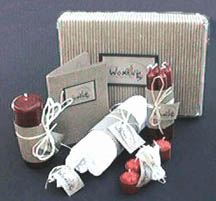 WOC KITS

Women of Color Day
Commemoration Kits

Supporting the work of promoting the observance of Women of Color Day worldwide, a Commemoration Kit has been developed to provide common tools for use in remembering and celebrating honorees in a ceremonial manner. By repeating and sharing these activities, women and men can join together in spirit for the common purpose of bringing about deserved recognition to positive actions and contributions which must not be ignored or overlooked.

The Kit provides information, symbols and materials for use in private, family or classroom ceremonies or in public programsólarge or small. Organizations and communities will find this a help in planning meaningful programs. Samples of themes, program outlines, resource information and other material are included with each kit. These "official" Women of Color Day ceremonial items provide a cultural, non-religious activity to remember ancestors, mentors and beloved women and girls of every culture.

We are currently re-designing the kits. New kits will be available in the near future. Kits will continue to include candles, booklets and a Women of Color Day tee-shirt.

* All shipping and handling charges quoted are for US orders only. Please contact us by email for international shipping and handling charges. International orders must comply with applicable customs requirements and laws of the United States and the country to which they are shipped.