Video Tapes
Fundraising Kits
Other Interesting Products
Official Plaque
COMMEMORATIVE POSTER
The official commemorative poster for Women of Color Day 2006 was created by talented Sacramento, California artist Miriam Estrada for this special anniversary occasion. They will be available at the event as well as by advance order.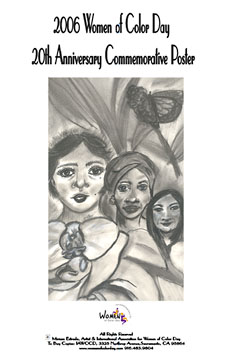 Price: $7.00 plus shipping and handling within USA.
(California residents add 7.6% sales tax)
Please contact Women of Color Day for ordering information




contact@womenofcolorday.com
Creative Concepts Systems
3325 Northrop Avenue
Sacramento, CA. 95864-9805
(916) 483-9804 Fax: (916) 483-9805



* All shipping and handling charges quoted are for the US order only. Please contact us for the international shipping and handling charges by sending us an e-mail.